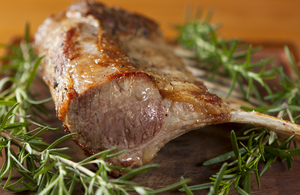 There has been widespread coverage in the Independent, Express, Evening Standard, City AM,  the Scotsman, Press and Journal, as well as others, of our announcement that exports of British lamb to the US market can resume from next year after more than two decades of restrictions.
On Friday, the United States Department of Agriculture (USDA) confirmed it has amended the rule which currently prevents imports of lamb from the UK into the USA.
The amended "small ruminant rule" will come into force on 3 January 2022.
This means that US consumers will soon be able to enjoy the UK's world renowned lamb. It is estimated that this market will be worth £37 million in the first five years of trade.
Environment Secretary George Eustice said:
Today's great news follows years of negotiations and builds on the success in securing the resumption of UK beef exports to the US. UK lamb is renowned for its high quality, food safety and welfare standards. Millions of US consumers will now be able to enjoy British lamb as early as next year."

"The US market for lamb is growing as consumer trends change and there are now new opportunities for farmers and meat processors in this market.