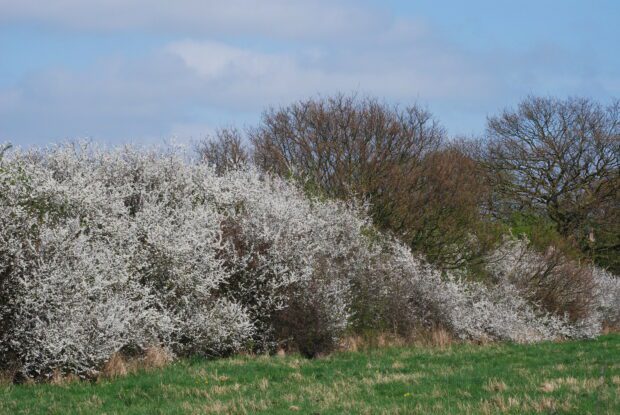 There has been widespread media coverage today (Monday 6 September) of the countryside charity CPRE's report on hedgerows including in the Daily Telegraph, the Independent, Daily Express, Daily Mirror and Daily Star. The news also featured on BBC radio bulletins and regionally in the Yorkshire Post and Western Daily Press.
CPRE's research highlights the benefits of hedgerows for wildlife habitats and the wider economy. The charity are calling on the Government to increase the number of hedgerows by 40% by 2050 which their research claims would create 25,000 jobs in the UK.
The Telegraph ran an opinion piece by the Defra Secretary of State on the importance of hedgerows as a crucial ecological building block of farmland. The piece welcomes today's CPRE report highlighting the benefits of hedgerows and their role to improve air quality, store carbon and benefit rural economy. Wider coverage also carries a statement from Tony Juniper, the Chair of Natural England, outlining that we have a great opportunity to transform the countryside to increase the amount of hedgerows, and that we are working to ensure the new farming policy makes a real difference.
Tony Juniper, Chair of Natural England, said:
We have the opportunity to transform the way the countryside looks and sounds, which includes more hedgerows, as well as improving the ones we have already.

We are working to ensure that the new farming policy makes the best possible contribution toward the creation of the Nature Recovery Network that is set out in 25 Year Environment Plan and hedgerows are very much a part of that. These wonderful features create natural corridors, provide essential habitats for wildlife, catch and store carbon and bring benefits for the rural economy.
A Defra spokesperson said:
Hedgerows are an important ecological building block in our landscapes – maintaining the distinctive character of our countryside, improving local air quality, and providing crucial habitats for wildlife.

Our landmark plans for a renewed agricultural sector will enable us to reward the work farmers do to manage every metre of hedgerows on their holdings sustainably and in a way that is right for their area.
The Environment Secretary delivered a speech at the NFU Conference 2021 in which he further set out his approach for future agriculture policy.
Hedgerows are important environmental and landscape features that, managed well, provide essential habitats and food for wildlife, as well as providing carbon sequestration and other benefits.