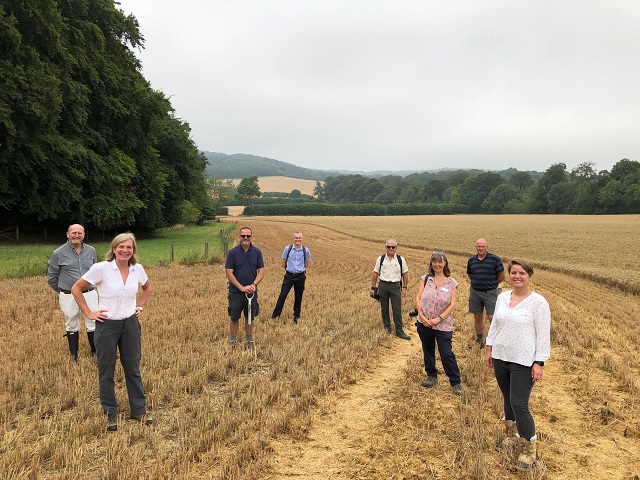 Yesterday Natural England's Chair Tony Juniper and CEO Marian Spain visited Hampden Bottom Farm in Buckinghamshire to launch the new Local Nature Recovery Strategy (LNRS).
Representatives from Buckinghamshire Council were also present, including Cllr Bill Chapple OBE, as well as representatives from the Chilterns Conservation Board and the land owner Ian Waller.
Buckinghamshire, alongside Cornwall, Greater Manchester, Northumberland & Cumbria, has been chosen as one of five pilot areas for the production of a Local Nature Recovery Strategy.
The selected authorities will receive a share of £1 million of funding to set up LNRS pilot studies helping to identify the most valuable sites for wildlife, while also identifying areas for the restoration of nature. This could see the creation of wildflower habitat for pollinators, green spaces for people, or new woodlands and wetlands which are important for both healthy communities and in the fight against climate change.
The forthcoming Environment Bill will go even further – requiring all areas in England to establish an LNRS. This will help bring a broad range of groups together – from farmers to businesses to local communities – to deliver priorities for nature recovery at a local and national level. The pilots will also help kick-start the creation of over a million acres of habitats for wildlife.
Buckinghamshire in particular is an excellent example of how local advice and guidance is helping transform nature, as well as achieving other environmental outcomes on a landscape scale across a cluster of farms in the Chilterns AONB.
Environment Minister Rebecca Pow said:
Coronavirus is shining a light on the importance of our natural world, and the positive impact nature can have on our health and well-being.

These first pilots will be a key part of our green recovery and help kick-start the creation of over a million acres of joined up habitats that people can enjoy across the country.
Natural England Chair Tony Juniper said:
If we wish to have rich and abundant wildlife, more carbon captured in trees, soil and hedges, better protection from extreme weather and enough places for people to gain the well-being benefits of good quality green spaces, then we must invest in Nature's recovery, and at scale.

National ambitions for Nature's recovery will need to support local action and today is a significant milestone in doing just this. We look forward to working with our partners in these five areas to create bigger, better and more connected natural places to halt and then reverse the decline in our environment.
The LNRSs will underpin the new Nature Recovery Network (NRN) – a flagship element of the Government's 25 Year Environment Plan. The NRN will benefit people and wildlife by increasing, improving and joining-up wildlife-rich places across England.