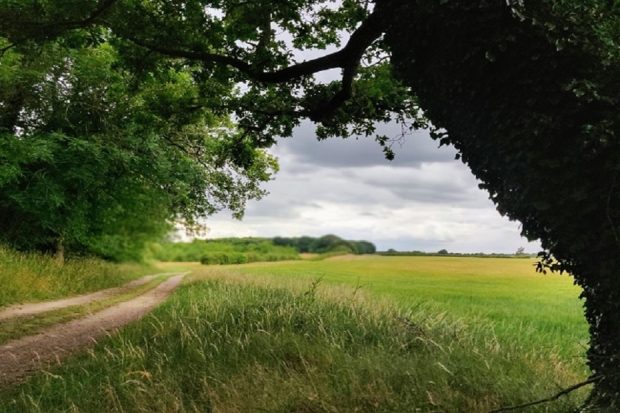 There has been coverage in BBC News Online, ITV News Online, the Essex Gazette, East Anglian Daily Times, the Harwich and Maningtree Standard and other regional outlets that the Suffolk Coast and Heaths Area of Outstanding Natural Beauty has been expanded today.
The move sees the AONB extend by around 38 square kilometres, taking in a rich tapestry of attractive river valleys, ancient woodland, reed beds, wildlife-rich estuaries, and windswept beaches. The area includes the Stour estuary – one of the most important wildlife estuaries in Europe and of international importance for wildfowl and waders.
ITV News Online also interviewed Natural England Chair, Tony Juniper for their evening news broadcast.
Defra Secretary of State, George Eustice MP, said:
Areas of Outstanding Natural Beauty and National Parks are among the most treasured places in our great English countryside, and this landmark decision demonstrates our commitment to designating even more places for people and wildlife to enjoy.

The Suffolk Coast and Heaths is a landscape rich in history and a source of inspiration to countless artists, writers and musicians, and these extensions are a worthy addition especially during this unprecedented time, when many of us are connecting with nature more than ever before. This milestone marks a significant step towards putting our ambitious 25 Year Environment Plan to leave the environment in a better state than we found it into action.
Natural England Chair, Tony Juniper, said:
Areas of Outstanding Natural Beauty represent some of the country's most valued landscapes, designated to conserve and enhance natural beauty.

We welcome this magnificent milestone and firmly believe in the benefits this extension to the AONB will bring – for the environment, the economy and the many people who will enjoy in perpetuity the stunning landscapes and natural treasures found here.

Landscapes like this, which are designated for their natural beauty, will be a vital part of the new Nature Recovery Network that we are helping to establish. We look forward to working with our many partners in the AONBs and beyond to create more, bigger, better and connected natural areas, where people live, work and visit, as part of a truly green recovery from coronavirus.
Natural England, the statutory agency for the natural environment, carried out thorough technical analysis and extensive consultation, before submitting the proposed extensions to government for consideration.
The move will bring significant benefits to the local area, enabling local businesses and tourist sites to promote the area as an AONB and access relevant grants. The announcement also takes heed of the recommendations of the Landscapes Review - spearheaded by Julian Glover in 2019 – which called on the government to take bold action to make our national significant landscapes greener, more beautiful and open to everyone.
For more information about the Suffolk Coast and Heaths AONB, visit this website.