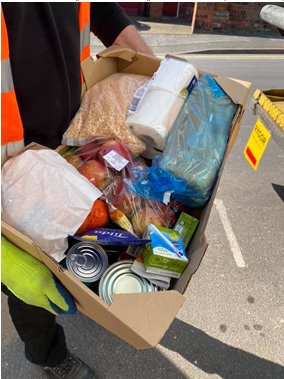 There is coverage of yesterday's government press conference, in which the Health Secretary announced an easing of shielding measures from Monday 6 July, when individuals who are shielding from coronavirus can gather in groups of up to six people outdoors and form a 'support bubble' with another household.
The government also announced the current shielding support package will remain in place until the end of July when people will no longer be advised to shield. From Saturday 1 August, the guidance will then be relaxed so clinically extremely vulnerable people will no longer be advised to shield, but support will remain available from NHS volunteers and local councils. People will retain their priority for supermarket delivery slots, and still be able to access help with shopping, medication, phone calls and transport to medical appointments.
This comes as the latest scientific evidence shows the chances of encountering the virus in the community continue to decline, but the government is committed to continuing with the unprecedented package of support until the end of July to give those shielding time to adjust to these changes.
Those in receipt of centrally provided food boxes, who continue to need help, will receive them until the end of July. To date, support for those shielding includes over 3 million free boxes of essential food which have now been delivered by wholesalers to those at highest risk across England, with around 300,000 boxes being distributed every week.
Final registrations for food support will close on 17 July, to allow for support to reach individuals ahead of this end date of 31 July. From 1 August, guidance for this group will be brought in line with that for the clinically vulnerable group. This means you can go outside, including to the shops, providing you take particular care to maintain social distancing.
We have been working closely with supermarkets who have agreed that access to priority supermarket delivery slots will continue beyond July for those clinically extremely vulnerable who have already signed up for support, as an alternative once free food boxes are no longer provided. Supermarkets and other retailers also offer telephone ordering and food boxes to make it easier for vulnerable people to shop for themselves.
There are also other commercially available options including telephone ordering, food box delivery, prepared meal delivery and other non-supermarket food delivery providers. We have provided local authorities and charities with a list of some of these commercially available options for accessing food.
If a person meets the criteria to get support from the NHS Volunteer Responders programme, they can call 0808 196 3646 to be linked with a volunteer who can do a food shop for them. A carer or family member can also do this on their behalf.
Anyone in urgent need of support should contact their local council, most of which have dedicated COVID-19 helplines. Councils have existing legal powers to provide welfare assistance, and many have existing mechanisms which provide this support in a way which suits the needs of their local community. This may include provision of cash payments, food vouchers, or alternative support. For anyone facing financial hardship the government has made £63 million available to local councils in England to help those who are struggling to afford food and other essentials.
If you would like to learn more about accessing food and essential supplies during the pandemic, further guidance is available on the gov.uk website. Information on all government support, including for those who are unemployed or are having trouble paying their bills, is also available.