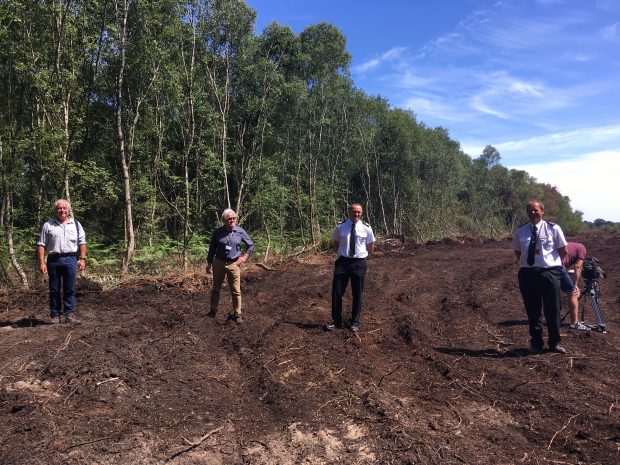 There is coverage today in the Doncaster Free Press following Natural England (NE) Chair Tony Juniper's visit to Hatfield Moors National Nature Reserve (NNR) yesterday. Tony also undertook interviews with BBC Look North, ITV, Capital FM, and BBC Radio Sheffield.
Fire crews have been at the scene since a wildfire fire was reported by a member of the public on Sunday 16 May. NE staff have been working with South Yorkshire Fire and Rescue Service (SYFRS) to get the fires extinguished, including helping them move fogging machines around the site safely. NE continues to fund helicopter water bombing of the site to help suppress the blaze.
Tony thanked Doncaster Council and SYFRS for their work, and noted that NE is working on a plan to restore the site including a long-term approach to minimise fire risk.
Natural England Chair Tony Juniper said:
We greatly appreciate the help we've had from Doncaster Council and the fire service, which has brought this incident near to its conclusion.

We don't yet know how much wildlife has been destroyed. Birds were well equipped to escape, and hopefully some of the reptiles and other animals escaped. But nature is resilient and will bounce back. We are working on a plan to restore the site, and taking a long term approach to minimising fire risk.
SYFRS have moved the incident from the control phase to an extinguish phase, which means that work is now focused on dampening down the worst affected areas and putting the fires out completely.
Hatfield Moors is owned and managed by Natural England. It is a designated Special Protection Area and Special Area of Conservation and home to number of protected birds and wildlife. The site is also the largest area of lowland peat bog in England and work has been underway to restore it since 2014. Peatlands are particularly important carbon stores and restoring their condition will contribute to reducing carbon emissions.
You can follow the latest update on the Hatfield Moors wildfire on Natural England's blog.