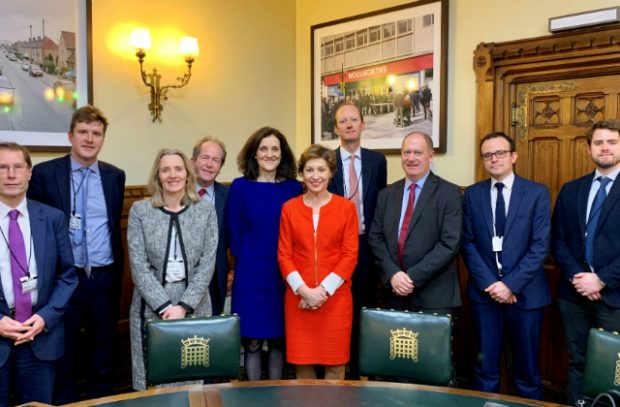 Some of the biggest business groups in the country have welcomed the ambition and direction of the government's landmark Environment Bill.
Environment Secretary Theresa Villiers hosted a roundtable discussion with Environment Minister Rebecca Pow and representatives from the Broadway Initiative, Water UK, The Institute for Environmental Management and Assessment (IEMA), Aldersgate Group, Home Builders Federation, Country Land and Business Association (CLA), Federation of Small Business (FSB) and Confederation of British Industry (CBI), with broad support for the Bill introduced to Parliament last week.
The Environment Bill is a landmark piece of legislation to help address the climate emergency and protect and improve the environment for future generations. It will transform our environmental governance once we leave the EU by putting environmental principles into law; establish the new independent Office for Environmental Protection (OEP) to hold the government to account on the environment; and introduce legally binding targets to drive action by this and all future governments to significantly improve air quality, nature, water and resource and waste efficiency.
Speaking to the business groups, Environment Secretary Theresa Villiers reiterated the government's commitment to improving the environment for future generations and highlighted the opportunities for business which arise from measures in the Bill.
Environment Secretary Theresa Villiers said:
We have been very clear that this government wants to deliver the most ambitious environmental programme of any country on Earth. The Environment Bill sets out how we plan to protect and improve the natural environment in the UK.

I am very grateful to everyone for joining us today as in order to deliver this, we need to drive behavioural shifts in business, consumers, and developers towards more socially and sustainable practices.
The meeting also provided a valuable opportunity for businesses to offer their opinion on areas in which the Bill could be further strengthened as it makes its way through Parliament.
This morning (Friday 7 February), Jason Reeves of the Chartered Institute of Ecology and Environmental Management was interviewed on Radio 4's Farming Today and said questions remain over the OEP's independence.
We have been very clear that the OEP will have the power to undertake its own investigations at its own instigation, and will be able to take central government and public bodies to court for any serious breach of environmental law, if necessary.
Ministers will not be able to set the OEP's programme of activity or improperly influence its decision-making. Ministers will be required to have regard to the need to protect the OEP's independence when exercising functions in relation to the OEP.
You can track the progress of the Environment Bill and read debates on all stages of the Bill's passage on the Parliament website.