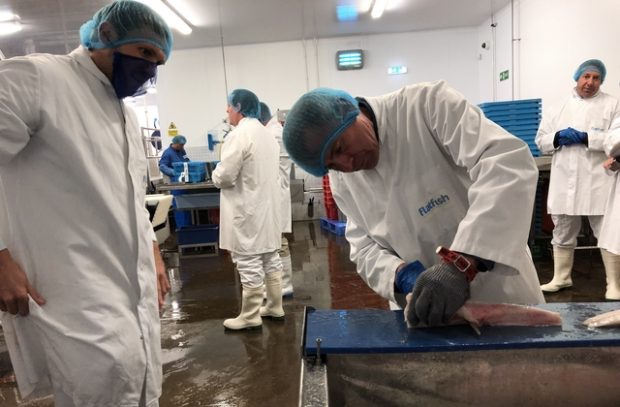 On Monday 8 July, Fisheries Minister Robert Goodwill visited Grimsby to meet with some of the people and businesses that are putting the town at the heart of the UK's fish processing sector.
The visit was covered by the Grimsby Telegraph and BBC Radio Humberside, focusing on the minister's comments about the great opportunities on offer for UK and European workers in the seafood and fisheries industries.
Fisheries Minister Robert Goodwill said:
I am delighted to visit Grimsby at such a pivotal time for our fishing and seafood industries as we leave the EU and become an independent coastal state.

The town is at the heart of the UK's fish processing sector, and it's great to see first hand the work of local businesses - both large and small. Initiatives such as #MadeGreatinGrimsby are helping to brand products from Britain's capital of seafood processing, showcasing the international role the UK sector can play in the fishing industry.

Excellent work is being done to attract more young people into the industry and this is something I wholeheartedly support and encourage.
The minister started with a tour of the Grimsby Fish Market, viewing the morning fish auction and discussing current trading opportunities on the market floor. He then travelled to meet with Patrick Salmon, managing director of Alfred Enderby's Traditional Grimsby Smokehouse, to learn all about the traditional smoking process and the high-quality smoked salmon and haddock that has earned Traditional Grimsby smoked fish Protected Geographical Indication status.
Fish processing company Flatfish, which has recently benefitted from significant Japanese investment, then gave the minister a taste of the fish filleting training that it is offering to train up young people to become counter staff, before a round-table discussion with representatives from the area's major seafood processors, importers, and port operators to discuss the opportunities and challenges for the sector.
Finally the minister visited Papa's Fish and Chips on Cleethorpes Pier - the world's largest Fish and Chip restaurant - to sample some of the produce that he'd seen being processed throughout the day.