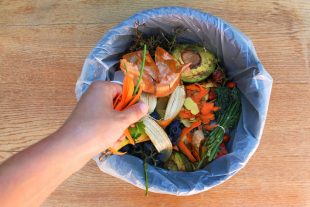 There is coverage today in The Sun, ITV News, Daily Mail, Sky News, Daily Mirror, and the Yorkshire post of our announcement today that over 100 food businesses, including all major UK supermarkets, have signed our pledge to halve their food waste by 2030.
Signatories include big-hitters from the world of food such as Aldi, Asda, Caffé Nero, Co-op, Costa, FDF, Lidl, Sainsbury's, Starbucks, Tesco, M&S, Morrisons, Nestlé, Ocado, UKHospitality, Unilever, World Wildlife Fund for Nature and Waitrose.
Coverage notes the move comes after the government's Food Surplus and Waste Champion Ben Elliot urged organisations to 'Step up to the Plate' at a landmark symposium last month.
Food Surplus and Waste Champion Ben Elliot said:
"We are pleased to see these retailers committing to change. To those retailers yet to sign the pledge – why not? You have a responsibility to step up and do your bit.
"We will be highlighting those who participate and those who do not. The food waste crisis can only be solved by collective action."
Environment Secretary Michael Gove also commented on the annoucement. He said:
"I am delighted to see so many UK food businesses commit to game-changing action to cut food waste, and I hope that others follow suit.
"The UK is showing real leadership in this area, but each year millions of tonnes of food is wasted."
"I want to thank our Food Surplus and Waste Champion for inspiring business to step up to the plate. Together we will end the environmental and economic scandal that is food waste."
Earlier this year the government launched a £15 million game-changing scheme to tackle food waste, building on its landmark Resources and Waste Strategy which sets out how the government will introduce annual reporting of food surplus and waste by food businesses.
Environment Secretary Michael Gove has invited organisations to apply for the second round of more than £6 million funding under the government's game-changing scheme to slash food waste. We would like to see larger food businesses report their food waste transparently on an annual basis in line with UN Sustainable Development Goal 12.3. We will consult later this year on mandatory reporting for larger businesses.
Anyone can sign up to the 'Step up to the Plate pledge' through sending a signed copy of the pledge to http://www.wrap.org.uk/stepuptotheplate.
A full list of signatories is available here.