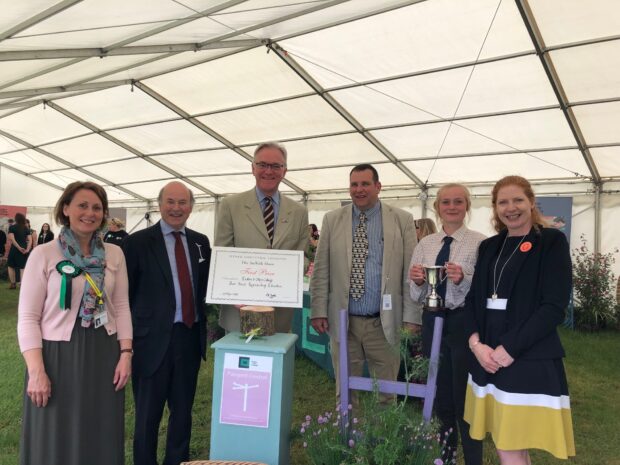 There has been coverage today of Defra Minister, Lord Gardiner and his visit to the second day of the Suffolk Show (30 May) on BBC Look East, BBC Radio Suffolk and in the East Anglian Daily Times.
The East Anglian Daily Times highlighted Lord Gardiner's visit to the prize-winning stand of Easton and Otley College. The Defra Minister met teaching staff and students who are studying horticulture and floristry.
Vanessa Baffeo reported for BBC Look East on a Defra-funded Payment by Results trial that has seen an increase in the number of fields with nectar and pollen-rich crops being grown by 13 farmers in Norfolk and Suffolk.
She said that 58 acres in total had been planted by the 13 farmers, which is equivalent to around 29 football pitches and was now benefiting bees, other pollinating insects and wild birds.
Minister for Pollinators and Biosecurity Lord Gardiner said:
Suffolk farmers are leading the way, creating vital habitats for bees and pollinators which in turn benefits the crops grown in the region. Farmers participating in the Payments by Results pilot in particular have achieved wonderful results for nature and pollinators.

It is fantastic to visit the Suffolk Show and see the achievements of farmers in this region to protect bees and other pollinators, which are vital to the diversity of our environment and our food production.
The result of this trial will feed into the development process for the new Environmental Land Management scheme. The Government committed to designing and incentivising farmers through a new land management scheme in the 25 Year Environment Plan – and it is hoped that this approach will secure benefits for wildlife and can be rolled out on a wider scale.
Graham Denny, who farms at Brewery Farm, Little Stonham, and is taking part in the trial said:
I was very happy to be invited to get a chance to benefit and shape a future scheme along with other like-minded farmers. Working with the Natural England team has been a great experience and I would like to thank all the staff for their professionalism and willingness to listen and learn from the growers and also to steer us in the right direction. It has been key to our enthusiasm to try and achieve our set goals

To choose and grow your own mixes of flowers as you would a normal crop makes it more your own, giving it that extra TLC and seeing it flower, filled with bees, insects and wildlife makes your efforts very satisfying. Even better to share your highs and lows with great people with a passion for the wildlife on their farms, all sharing experiences to further this trial.