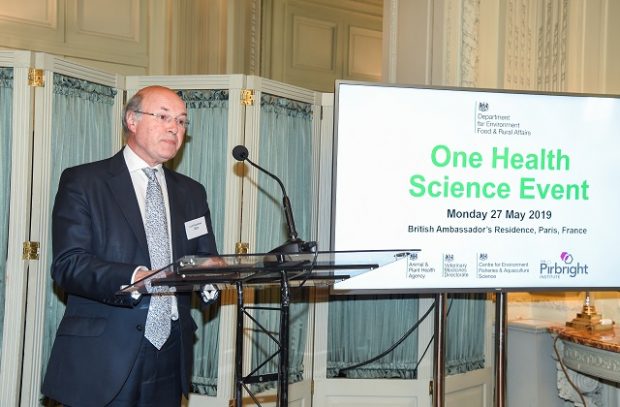 Over the weekend the Minister for Biosecurity, Lord Gardiner, and the UK's Chief Veterinary Officer, Christine Middlemiss, hosted a One Health Science reception at the British Ambassador's Residence in Paris.
This brought together the leading voices in the animal health sector and celebrated the UK's highly respected scientific expertise as well as its international collaborations through the World Animal Health Organisation (OIE).
A key theme reflected during the reception was the UK Government's support of a 'One Health' approach to protecting animal health and fighting threats such as anti-microbial resistance (AMR) as well as new and emerging diseases that spread from animals to humans.
Addressing delegates in a speech, Lord Gardiner underlined his support of collaborative efforts to tackle disease; "global strategies are necessary to prevent, understand and control pathogens if we are to protect public and animal health. By working together we can best meet the challenges we all face and accessing sound science is key to the right actions."
The UK already conducts strong collaborative work with the OIE. There are a number of OIE-designated sites in the UK including APHA and the Veterinary Medicines Directorate in Weybridge and Cefas in Weymouth. The Pirbright Institute also has designated status by the OIE for a number of animal diseases while APHA, Cefas and VMD have all recently been awarded United Nations Food and Agriculture Organisation (FAO) designated status as an International Reference Centre for AMR.
The Paris reception highlighted a clear desire to take forward new strategic collaborations between the UK and OIE member countries.