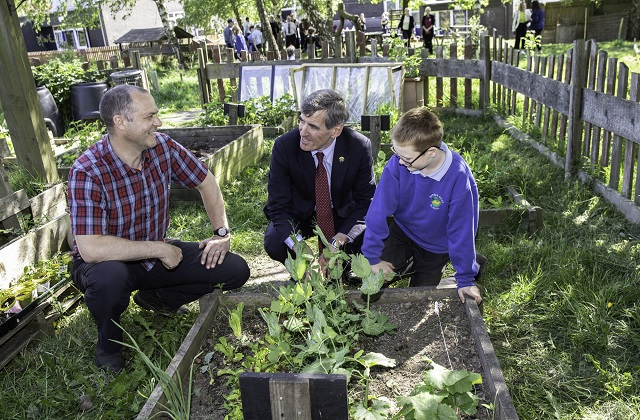 Forestry Minister David Rutley visited Coalville, Leicestershire yesterday to officially launch the Urban Tree Challenge Fund.
This received coverage on BBC East Midlands Today.
Minister Rutley visited Warren Hills Primary School to open the £10 million fund, which will see 130,000 urban trees planted across England over the next two years. The fund, which is now open for applications, will contribute to the government's ambition to plant one million urban trees by 2022.
The Minister also took part in a forestry class with students and teachers, speaking about how urban trees improve health and wellbeing and connect people with the outdoors.
Forestry Minister David Rutley said:
We are all becoming increasingly aware just how important interaction with nature is for our mental and physical health, and trees in urban areas play an important role in helping us connect with the natural world - regardless of where we live.

This £10 million fund will help individuals and groups across our urban communities plant more trees, making our towns and cities greener, healthier and happier places to live.
The scheme, which will be administered by the Forestry Commission, is now open to individuals, local authorities, charities and NGOs.
Grants will fund the planting of trees and the first three years of their care to ensure they can flourish into the future.
This sits alongside the government's wider work to plant more trees across the nation, including the establishment of the Northern Forest and the appointment of a government Tree Champion to drive forward planting rates. We will also consult on a new English Tree Strategy later this year to accelerate woodland creation.