Blanket bog featured on BBC One's Countryfile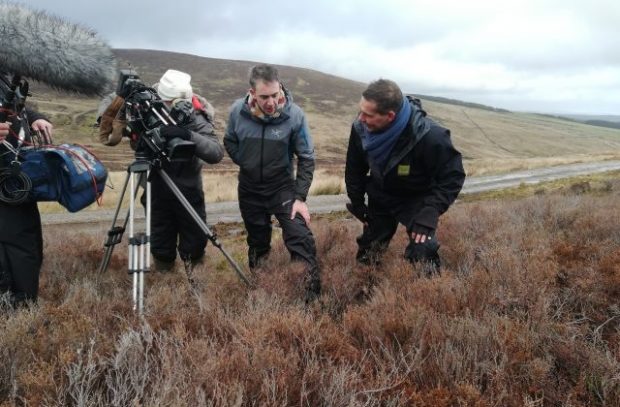 Natural England's work on restoring and protecting blanket bog on upland moors was featured in a film on BBC One's Countryfile and is available to watch on the BBC iPlayer.
Dave Stone, Deputy Chief Scientist for Natural England was interviewed by reporter, Joe Crowley about the Voluntary Commitments made between landowners, tenant farmers and sporting interests with the conservation organisation. These agreements include a commitment to stop the rotational burning of heather on blanket bog.
The film also explored alternative methods for managing heather such as allowing cattle to trample the plant, whilst grazing.
Countryfile and The Guardian have both investigated claims by Friends of the Earth that burning has continued on moorland and that Natural England should do more to prevent this practice.
Natural England's Deputy Chief Scientist, Dave Stone said on Countryfile:
I think we are, we are working with land owners and most people as far as we can tell are honouring their word. Friends of the Earth have brought things to our attention and we have investigated those.

The Secretary of State has also been clear that we will start to look for legislative solutions if the voluntary approaches don't work.
Church bells to be used as back-up flood warning system
The Guardian, Yorkshire Post and Mail Online have covered an Environment Agency press release about a village church in Devon becoming the first in the country to be able to use its bells as a flood warning system.
The 18th century bells at St Paul's Church in Starcross have been restored with a £10,000 Environment Agency grant and additional money raised by the community. The bells will only be used as a back-up for the EA's traditional electronic warning systems.
Jane Fletcher-Peters, Flood Resilience Officer at the Environment Agency, said:
As well as building flood defences, we also work with communities to create flood plans - a set of actions of what to do in the event of flooding. These plans always have to have a contingency for warning residents.

Starcross is very much a boating community so it made sense that if the church bells were sounded to warn of flood, ringers would adopt an SOS peal familiar to residents.
The community is also set to benefit from £4m of flood engineering work, including new flood gates and a raised harbour wall, to better protect more than 600 properties from coastal flooding in the area.
There are 5.2 million homes and businesses in England at risk of flooding, with over a million homes benefiting from the EA's flood warnings service. To sign up for flood warnings click here.