EA starts £2.1m River Thames improvement programme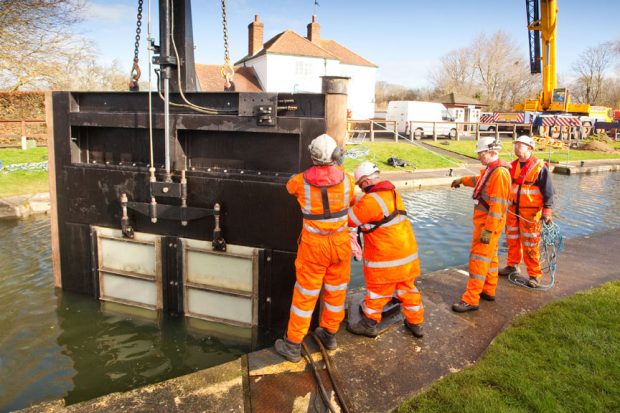 The Environment Agency announced details of a £2.1 million programme of improvements to River Thames locks which will enable and enhances boating activity along 135 miles of river.
This story has been covered in the Oxford Mail, Oxford Times and Didcot Herald.
Major structures like locks, weirs, lock houses, access roads and bridges will be upgraded, repaired and kept in safe working order to ensure boats can navigate along the stretch of the non-tidal Thames. The winter improvements will help to make boating activity safe and enjoyable. Income from boaters' registration fees is put towards the cost of the maintenance work in addition to money from central government.
Barry Russell, River Thames Waterways Manager, at the Environment Agency is quoted saying:
This year's £2.1m programme of work is one of the most extensive for some time.

The work our specialist navigation engineers, craftsmen and contractors will carry out is absolutely vital. It will directly support both recreational and commercial boating on the Thames, and indirectly support the many thousands of businesses along the river sustained by the spending power of our boating customers. That's not just marinas, boat yards and chandleries, but shops, hotels, restaurants, pubs, visitor attractions and so on.

We're proud to be the custodians of the navigation infrastructure on the non-tidal Thames, and we take the responsibility that comes with it very seriously.
New mobile weather radar for North West
Last week the Environment Agency announced that it has worked successfully alongside the National Centre for Atmospheric Science (NCAS) to deploy a mobile weather radar in Cumbria.
The announcement gained significant regional coverage across the north west. It was covered on broadcast by ITV Border, BBC Look North, and Radio Cumbria, and in print by the Cumberland and Westmorland Herald, Cumberland News, News and Star, Lancashire Telegraph, Westmorland Gazette, West Cumberland Times and Star, Cumbria Crack, Whitehaven News, Lancashire Telegraph, NW Evening Mail.
Weather radars are the most effective way to collect real-time rainfall information, enabling the Environment Agency to better predict the chances of flooding across the north west, and reduce the impact of heavy rainfall on local communities over the coming winter.
Speaking about the new radar, Tim Harrison, Senior Advisor for the Environment Agency, said:
The deployment of the NCAS radar will help us to build a strong case for investment where it's needed. We're seeing many benefits from the collaboration including a greater interest from all parties to integrate data from deployments like this, and other third party radars into the national Met Office rainfall products.