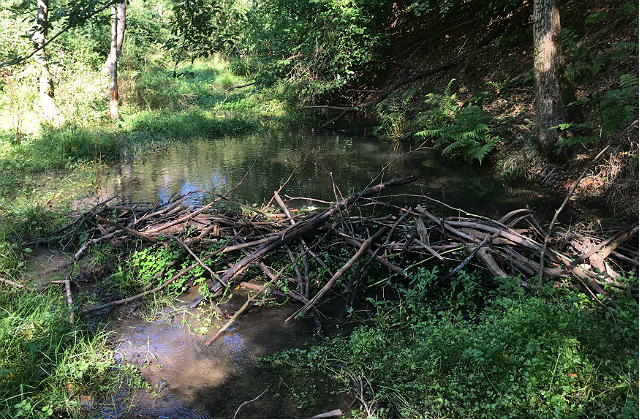 Excitement has been growing in the Forest of Dean and across Defra, the Forestry Commission and our partners as the beavers introduced during July have completed construction on their first dams in the Greathough Brook!
Evidence from the trail cameras positioned around the enclosure shows that beavers have set up home close to the release point, in a burrow in the bank of the brook, and this is the area where the most significant evidence of feeding is in terms of gnawed willow trees and feeding debris on site.
Further downstream from this point three significant dams have been created from woody debris lying around the site but ingeniously engineered through packing with a variety of material including vegetation and mud to create permeable dams that are already holding back large volumes of water.
Before the release, the brook could be easily crossed in wellies – now the water is thigh deep in places, simply as a result of the beavers' dam-building actions.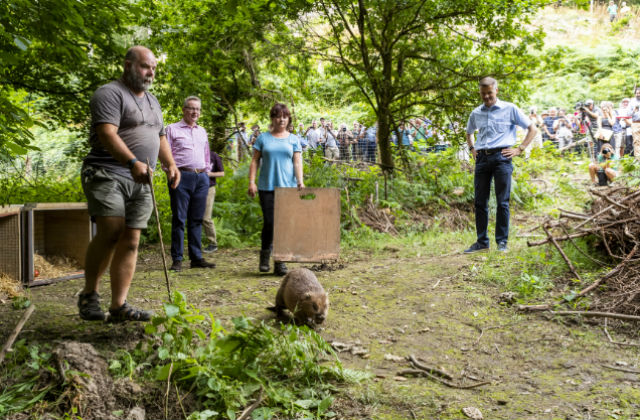 Camera evidence shows that the beavers have explored the whole site and created smaller exploratory dams in other areas further up and down stream.
Trails through fool's water cress beds lower down the site also provide evidence that they are not simply remaining within one spot – allowing people visiting the site good views of their activities.
The public are backing this project and there is a voluntary group of fence checkers and positive interest from numerous visitors to see the beavers.
Environment Secretary, Michael Gove released the pair of beavers in the Forest of Dean during July.
Environment Secretary, Michael Gove said:
The beaver has a special place in English heritage and the Forest of Dean. This release is a fantastic opportunity to develop our understanding of the potential impacts of reintroductions and help this iconic species, 400 years after it was driven to extinction. The community of Lydbrook has shown tremendous support for this scheme and the beavers will be a welcome addition to local wildlife.

The project is an example of our wider approach to enhancing biodiversity. It is another step towards our aim of leaving the environment in a better state for future generations.