£34 million Sheffield flood defence to protect homes and businesses is completed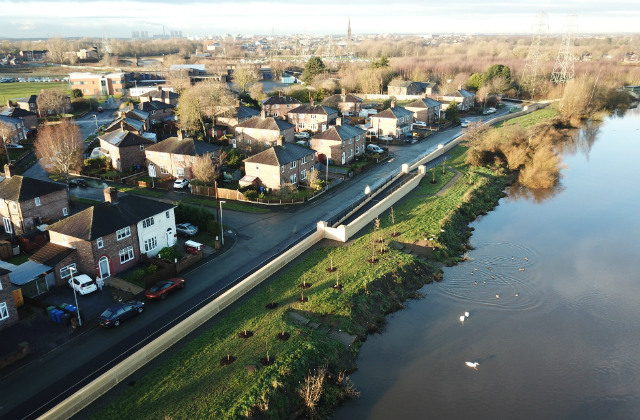 More than 2,000 Warrington homes and businesses will benefit from the town's multi-million pound flood defence scheme, officially opened today by Environment Agency Chief Executive, Sir James Bevan and the town's Mayor, Cllr. Les Morgan.
The scheme is one of the largest value flood defence projects constructed in the region in recent times, and will significantly reduce flood risk to the town which has been no stranger to flooding – given it sits in naturally low-lying land and within the path of the River Mersey and its tributaries.
Sir James Bevan, Environment Agency Chief Executive, said:
The scheme not only brings flood risk benefits but the work in the area is also good news for walkers, birdwatchers and wildlife. It's been great to see the Environment Agency working together in partnership to better protect Warrington – a fine example of what can be achieved by working with others.

These new flood defences will not only benefit hundreds of homes and businesses in the area but will also safeguard critical infrastructure, vital in keeping the town moving.
Due to the scale and complexity of works, the scheme was delivered in 3 phases – parts of which have been effectively operating for some time. Phase one (the Knutsford Road section) was put to the test during the 2013 December high tides, preventing some 200 properties from being flooded. The predicted value of damage to properties that would have otherwise occurred, covered the actual cost of this section of the scheme.
Floods Minister, Thérèse Coffey said:
Warrington's new £34 million flood scheme will reduce the flood risk to over 2,000 homes and businesses, and protect vital infrastructure helping to bring investment to the area.

This scheme is an excellent example of how working together with councils and local businesses allows us to make the most of government funding to secure the best possible defences for communities. By 2021, we will have invested £47 million in flood defences to better protect 4,280 homes in Cheshire.
Comprising 5km of flood walls and 2.2km of embankment, the 7.2km scheme has improved amenity and recreational opportunities, as well as habitat conditions along the river corridor.
The widening and clearing of formerly impassable footpaths has improved connectivity, as well as views of the river and across the town, and extensive tree planting has created many pleasant vantage points for walkers and cyclists.