The Sunday Times – Fighting poaching in Malawi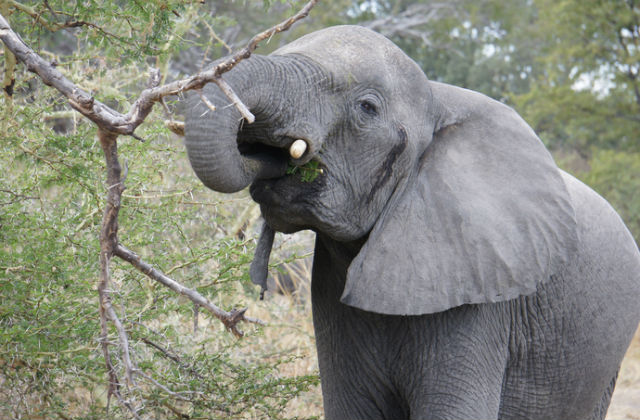 The Sunday Times magazine published a five page write up this weekend about Defra's funding of anti-poaching training in Malawi.
An elite team of specially trained British soldiers recently undertook their first deployment to the country. Known as CPOs (counter-poaching operatives), these soldiers are helping rangers in Malawi combat the soaring illegal wildlife trade.
Worth an estimated £17bn a year, poaching and trafficking is pushing species towards extinction, fuelling corruption and funding organised crime and terrorism.
The Sunday Times notes that to ensure CPO deployments until 2020, Defra is providing £450,000 of funding.
The Environment Secretary was interviewed for the piece and is quoted as having said:
We do it because we should. If you have an asset, and there is a criminal demand for it, there is space for corruption. Fighting corruption and helping states like Malawi is critical for their development.
Defra's plan to ban the UK sale of ivory, regardless of its age, is also mentioned in coverage, and credited with helping to prevent illegal ivory being laundered by criminals.
Charlie Mayhew, chief executive of the conservation charity Tusk, believes the army's involvement will have a "game-changing impact, creating a very strong deterrent to poaching and good relations with the local communities".
The Environment Secretary, Michael Gove, said:
The decline in rhinos, elephants and countless other species shames our generation and the need for radical and robust action to protect these treasured species is beyond dispute.

That is why we are funding training missions of this kind around the world and we have announced plans to ban the sale of ivory, which should never be seen as a commodity for financial gain or a status symbol.

These plans will put the UK front and centre of global efforts to end poaching and the insidious trade in ivory.
BBC Countryfile on Barbel numbers
Did you see last night's Countryfile? Presenter Charlotte Smith met with Environment Agency fisheries officer George Horne and his team on the River Lea in Hertfordshire to learn about the Agency's efforts to boost Barbel numbers.
The river is known for historic big Barbel catches but has been experiencing declining numbers. The EA has been analysing historic and recent fish population data on the river, and looking at the ways in which habitat changes on the Lea may have had impacted on the population.
During the programme presenter Charlotte Smith learnt how to go electrofishing - a harmless technique that involves putting an electric pulse through the water - so that the fish can be sampled and data taken for further analysis at the Environment Agency's fish lab.
This data will help build a picture of the health of the Barbel on the river and inform work to improve habitat. All this work is paid for by rod licence sales. Watch it again here.
Waste4fuel clear up completed
The final phase of the Waste4fuel site clear up has been completed.
The site, now owned by Bromley Council, contained over 20,000 tonnes of illegally dumped waste, violating environmental regulations and causing distress to the local community.
After negotiations between the landowner, the government and Bromley Council, work began to clear the site earlier this year, led by waste management contractor, Veolia with the support of the Environment Agency to ensure waste was being disposed of safely and legally.
The news of the site's clearance attracted media interest from BBC South East who visited the site on Friday for an interview with Environment Agency Deputy Director, Julie Foley and local residents. The package was also featured on BBC London and BBC Online.
Julie Foley, Area Manager for the Environment Agency, said:
We understand how frustrating the situation has been for residents and thank them for their patience. We have worked hard with London Borough of Bromley and Veolia to get the site cleared, whilst helping to ensure there is no impact on the environment and local people.

It had taken a long time to get to this point, but we and London Borough of Bromley have had to overcome a number of difficult funding, legal and technical problems. We had to make sure that the site was cleared but most importantly that we had to make sure it could never become a waste site again.
BBC Countryfile on bovine TB
Yesterday, BBC's Countryfile featured a piece on the government's bovine TB eradication strategy.
The piece featured a number of interviews including Gloucestershire dairy farmer James Griffiths, who said that badger control has helped to break the cycle of disease on his farm and Professor James Wood, a scientific adviser to Defra, who outlined a new report published earlier this year which showed a significant reduction in the number of TB incidents in two cull areas is good evidence the policy is working. However, Dominic Dyer of the Badger Trust said that he believed cheaper methods are available to curb the disease.
The government has pledged £1m to the newly-launched TB Advisory Service, which will be offering 2,500 farm visits across the high-risk area of the country to offer bespoke advice to farmers on reducing their risk of disease.
We are also taking action through our 25-year strategy, one of the most rigorous in the world, strengthening movement controls, improving biosecurity, vaccinating badgers when possible and badger control in areas the disease is rife.
A Defra spokesperson said:
England has the highest incidence of bovine TB (bTB) in Europe and that is why we are taking strong action to deliver our 25-year strategy to beat the disease and protect the livelihoods of our dairy and beef farmers.

Dealing with the disease is costing the taxpayer more than £100 million each year and in 2016 alone, more than 29,000 cattle had to be slaughtered in England to control the disease, causing devastation and distress for farmers and rural communities.

Our comprehensive strategy includes one of the most rigorous surveillance programmes for bTB in cattle in the world, strengthening movement controls, improving biosecurity on farm and when trading, badger control in areas where bTB is rife and badger vaccination when possible.
Subscribe to the blog for email updates.