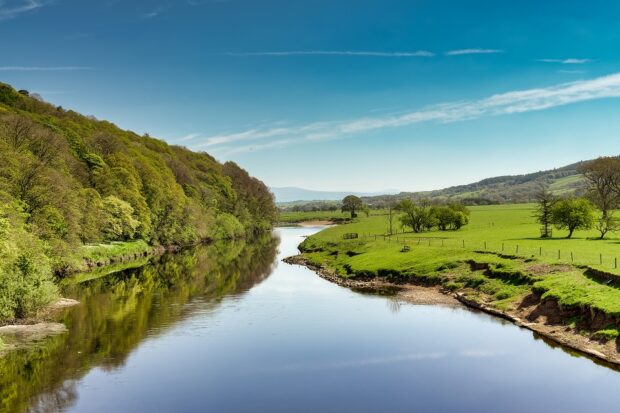 There has been widespread coverage on new legislation that means those that pollute the environment will face unlimited penalties. It will allow environmental regulators to target a much wider range of offences and tackle pollution.
The move to enshrine these new powers in law was covered by Radio 4's Today Programme, The Times, The Independent, Press Association, The Daily Express, Evening Standard, Daily Star, CityAM, Bloomberg and Reuters, amongst others. The Environment Secretary was also interviewed on Farming Today on the issue while attending the Great Yorkshire Show. There was further coverage in regional and financial trade titles, such as the Northern Echo and Insurance Journal.
The current limit of £250,000 on variable monetary penalties that the Environment Agency and Natural England can impose directly on operators will be lifted, following a government consultation which received widespread public support. This will offer regulators a quicker method of enforcement than lengthy and costly criminal prosecutions – although the most serious cases will continue to be taken through criminal proceedings.
New powers will also enable these higher penalties to be levied as a civil sanction for offences under the Environmental Permitting (England and Wales) Regulations 2016, the regime under which the majority of Environment Agency investigations take place. This will ensure regulators have the right tools to drive compliance across a range of sectors, strengthening enforcement and holding all who hold environmental permits – from energy and water companies to waste operators and incinerators – to greater account.
Environment Secretary Thérèse Coffey said:
 Polluters must always pay. We are scrapping the cap on civil penalties and significantly broadening their scope to target a much wider range of offences – from breaches of storm overflow permits to the reckless disposal of hazardous waste.

It builds on action being taken right across government to stand up for our environment – tackling pollution, protecting delicate ecosystems and enhancing nature.
Minister for Environmental Quality and Resilience Rebecca Pow said:
By lifting the cap on these sanctions, we are simultaneously toughening our enforcement tools and expanding where regulators can use them. This will deliver a proportionate punishment for operators that breach their permits and harm our rivers, seas and precious habitats.

This was one of the measures set out in our Plan for Water earlier this year. I am proud to say this government has acted swiftly so that this will now be enshrined in law, further strengthening the power of regulators to hold polluters to account.
Environment Agency Chair Alan Lovell said:
We regularly prosecute companies and individuals through criminal proceedings, but these new powers will allow us to deliver penalties that are quicker and easier to enforce, even though the most serious cases will continue to go to court.

That should be an important deterrent – boosting compliance across a range of sectors, driving down pollution and safeguarding the ecology and prosperity of our natural world.
There was also coverage following the publication of the Environment Agency's annual report on the environmental performance of England's nine water and sewerage companies. The Environmental Performance Assessment report shows some modest improvements to water company star ratings in 2022, compared to 2021. The findings were covered by The Times, The Daily Telegraph, The i and Utility Week, amongst others.
Measured against the Environment Agency's 4-star rating system, four companies have stayed the same, three have improved and two have got worse. The ratings take into account performance on environmental commitments such as pollution incidents and treatment work compliance. Although there have been some improvements, all water companies need to go further and faster in improving their environmental performance.
The Environment Agency has also set out how it will:
Create a bigger specialised workforce to focus solely on water company regulation. By autumn this year, nearly 100 officers will be trained in carrying out more detailed audits of water companies to quickly identify issues and put improvement actions in place.
Significantly increase compliance checks for every company – making sure they are sticking to the permits agreed with the Environment Agency.
Recruit more data specialists to make better use of analytics and technology.
Transform huge quantities of monitoring data into stronger regulatory intelligence.
Environment Agency Chair Alan Lovell said:
Regulators, water companies, government, eNGOs and many others all want the same thing: better environmental outcomes, including cleaner rivers and seas. We need to work together and take collective responsibility to achieve it.

While there have been some modest improvements, it is unacceptable to still be seeing this level of pollution. We have seen a distinct culture shift from the water industry in recent months and that is welcome – but that must translate to profound, long-term change.

The Environment Agency will play its part by transforming the way we regulate the sector. We welcome this week's announcement on unlimited penalties which will also improve our enforcement powers.
Water Minister Rebecca Pow said:
This report shows there is significant work to do to drive the improvements in our rivers and seas that we need to see.

The government's Plan for Water is focused on more investment, stronger regulation and tougher enforcement than ever before. I am personally committed to driving that forward and demanding more from each and every water company.

We have also put new regulatory powers in place to allow the Environment Agency to impose sanctions on water companies without always going through the courts. This will be an important tool in its armoury to hold companies to account.