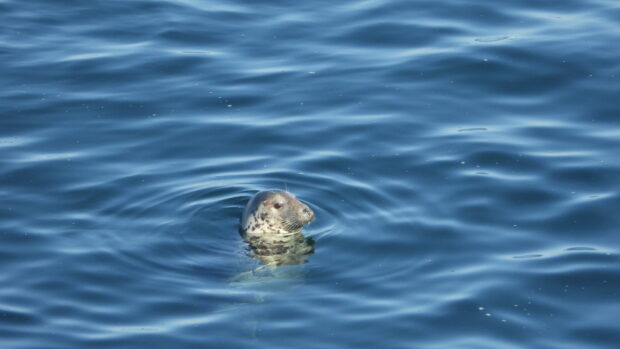 There has been broadcast coverage on BBC Breakfast, Radio 4's Farming Today and Coast Radio on our announcement that the government has launched England's first ever national Marine and Coastal Wildlife Code which offers friendly advice and guidance to help people visit the coast responsibly.
Home to around 95% of Europe's grey seal population and around 25% of Europe's breeding seabirds, the British coastline supports many iconic species and habitats. However, as visitors to our coastlines rise, it is important to ensure that our precious marine wildlife remains as undisturbed as possible.
Developed in collaboration with organisations including Whale and Dolphin Conservation, the RSPB, Shark Trust and Cornwall Seal Group Research Trust, the Marine and Coastal Wildlife Code includes advice for those walking along the coast or taking part in water-based activities such as kayaking, paddleboarding or jet skiing. It offers specific guidance around animals such as seabirds, seals, dolphins, sharks and turtles, including information on breeding seasons and how species might react to disturbance.
BBC Breakfast filmed a live package with conservationists Sue Sayer, from Cornwall Seal Group Research Trust, and Dan Jarvis, from the British Diver Marine Life Rescue, on Hayle Beach in St Ives, Cornwall where they discussed why the code was important, and their wider work to help to protect marine wildlife and the environment.
Marine Minister Lord Benyon said:
Ensuring everyone has access to nature is a priority for this government – but is it absolutely vital that people enjoy nature responsibly.

The Marine and Coastal Wildlife Code will enable everyone to make the most of our treasured outdoor places whilst protecting the very species and habitats that make our coastline so special.
Sue Sayer, from Cornwall Seal Group Research Trust, said:
Seals need space to rest, digest, moult and pup. Yet findings from the Seal Research Trust revealed seals are routinely or frequently disturbed by human activity, causing them to use up vital energy and meaning some seals are sadly unable to survive.

Our GIVE SEALS SPACE campaign is already raising awareness and we are delighted to welcome the launch of the Marine and Coastal Wildlife Code which will provide a single code of best practice to help everyone understand what they can do to help protect valuable marine wildlife as we all enjoy our staggering coastal habitat.
Kirsten Carter, Marine Principal Policy Officer at the RSPB, said:
As well as being fantastic places to visit and have fun, our coastline and beaches are home to amazing marine wildlife and globally important seabird populations. Sadly, many species are under huge pressure, including from the impacts of disturbance as visitor numbers increase and disease such as bird flu.

Everyone has a part to play in protecting nature, and England's first Marine and Coastal Wildlife Code shows how we can all enjoy our time at the coast while helping to safeguard wildlife at the same time.
Amanda Craig, director for Connecting People with Nature at Natural England, said:
The benefits of spending time in nature cannot be overstated and we want to see people of all ages and backgrounds out and about enjoying our magnificent coastline.

To make sure everyone can continue to reap the benefits, it is absolutely vital we all play our part in protecting marine wildlife and habitats, and the Marine and Coastal Wildlife Code will help equip people with the knowledge to do just that.
Dr Carla Boreham, Director of Campaigns for Whale and Dolphin Conservation, said:
Whales and dolphins are at significant and increasing risk of harm from the impact of human disturbance. It's important for people to understand and follow the new code so that marine mammals aren't injured or distressed when paddleboards, boats or other vessels are around.
The Marine and Coastal Wildlife Code builds on the existing Countryside Code, which provides helpful advice and guidance for an enjoyable and safe trip to the outdoors.