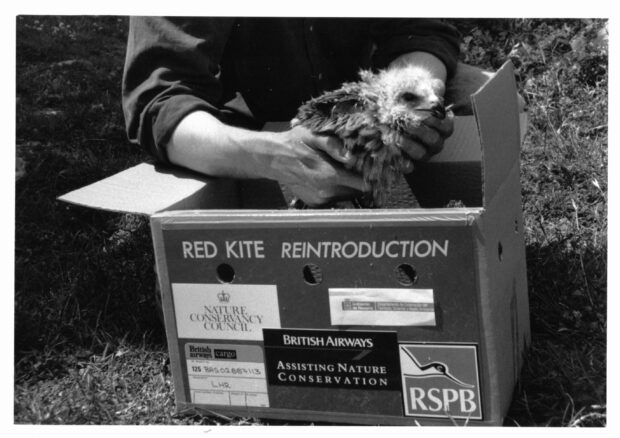 There has been extensive media coverage today in broadcast and print highlighting a Natural England partnership project to translocate red kites from England to Spain as part of a reintroduction scheme to help conserve the species in Spain, including on BBC Breakfast, BBC Radio 4 'Today', BBC News at One, BBC News online, The Guardian & Independent. 
This translocation means the UK's most successful bird conservation project has come full circle, with red kites having been reintroduced in England almost 35 years ago after efforts began to restore populations in the UK.
Natural England played a key role in the original re-introduction project and is now working with the RSPB to licence the removal of chicks for the current project.
Natural England Chair Tony Juniper said:
The reintroduction of red kites to England is the most successful raptor conservation story in Europe. It's a clear blueprint for the future of species reintroductions, particularly for some of our most endangered birds."

"Through partnership working, new legally binding government targets for species abundance and the new environmental land management scheme, we increasingly have the means to turn the tide on Nature's decline in England, bringing fresh promise for other native birds, including our beloved Hen Harrier and Curlew.

"I'm hopeful the red kite chicks bound for Spain will flourish in the same way the chicks that arrived to this country a generation ago did, as we support those helping to rebuild the population and the prospects of this magnificent bird in southern Europe.
Natural England has a long track record of successful reintroduction projects such as red kites and large blue butterfly in 1980s and many projects since.
Where reintroductions are part of a wider programme which includes work on habitat improvement and restoration at scale they, in turn, will benefit many declining species, and alongside legally binding government targets for species abundance and a new environmental land management scheme, can help to deliver our wider ambitions for species and nature recovery more broadly.