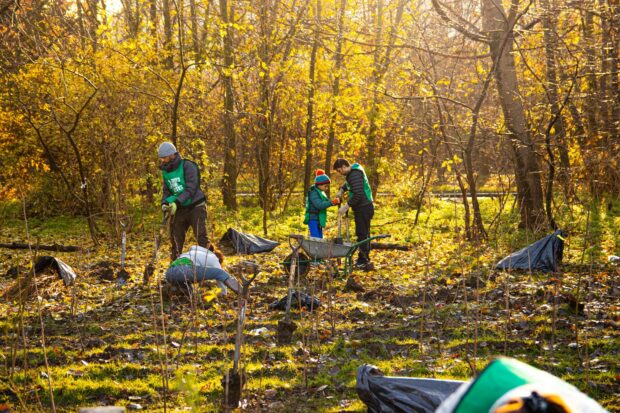 There has been coverage of the awarding of the second round of funding for the Green Recovery Challenge Fund in PA, the Daily Express, Sky News' the Daily Climate Show (at 09:20), the Evening Standard, BBC Radio Shropshire, Yorkshire Post, Western Morning News, Eastern Daily Press and more.
The projects, which will receive a share of £40 million, will span over 600 sites from North Northumberland to the tip of Cornwall, and will range from new 'insect pathways' in our countryside and towns, to tree planting projects in deprived urban areas.
The fund is supporting a range of nature conservation and recovery and nature-based solutions projects, which will contribute towards the Government's wider 25 Year Environment Plan commitments, including commitments to treble tree-planting rates in England by the end of this Parliament and restoring 35,000 hectares of peat.
Speaking from B-Lines, a Buglife project which has been awarded just over £170,000, Environment Minister Rebecca Pow said:
 The diverse and ambitious projects being awarded funding today will help environmental organisations employ more people to work on tree-planting, nature restoration and crucially, help more of the public to access and enjoy the outdoors.

Through our £80 million Fund, we are on track to support over 2,500 jobs, plant almost a million trees and increase nature recovery at a huge scale across the country, which will help us deliver against our 25 Year Environment Plan.
Natural England Chair Tony Juniper said:
Our environmental and conservation charity sector does an incredible job in protecting, improving and restoring the natural environment for the benefit of communities and the economy.

Having begun my environmental career back in 1984 working on a government-funded project comparable to those being announced today, I know from experience how this fund will be able to help a new generation of passionate young environmentalists take the first few steps in their careers. I can think of fewer more important investments in our future than that.
The fund is delivered by the National Lottery Heritage Fund in partnership with Natural England, the Environment Agency and the Forestry Commission.